Anmol Finsec Ltd.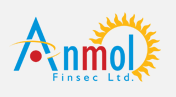 Anmol Finsec Limited., was established in the year 1997 and since then it has emerged as a well diversified group known as Anmol Group having interest in varied fields' viz. financial services, licensed TPA, Tender Information Services, Real Estate Developer etc. We have offices spread across INDIA.
Since inception, Anmol has been adopting to the new changes, meeting the challenges and capitalizing on the opportunities. Today Anmol Finsec offers its esteemed clients, through a pool of outstanding investment professionals and consultants who strive for the highest level of satisfaction for the clients.
Anmol Team has built an expertise with substantial years of experience and today offers individual service to each and every client - listening to their needs, researching the market and developing customized solutions that blend risk adjusted returns with performance. Today Anmol Finsec encapsulates a new spirit, a breadth of experience and maturity. Years of experience as made Anmol more wiser and more technically perceptive, works smarter, creatively designs, manages and develops solutions, as per the needs of clients. For the diversified clientele we have created a broader portfolio of products to suite each of them We value our clients and cultivate relationship which are long lasting.
Visit Site :
http://www.anmolfinsec.com/